About Cindy Miller
Cindy Miller is from upstate New York, received her Master's degree from the Eastman School of Music and is widely known as an exceptional eclectic performer.

As well as being a master of musical comedy, she is also recognized as having an extraordinary ability to interpret and present standard jazz material in an exciting and refreshing manner.

Her shows, "I've Got The Music In Me", "You Ain't Heard Nothin' Yet!" and "Here's To The Ladies", is musical comedy at its best. Each show is filled with superb singing, a little stand up comedy, witty parodies and delightful characterizations of famous entertainers.

In the field of jazz, Cindy has performed, or recorded with, flutist Hubert Laws, guitarist Gene Bertoncini, Chuck Mangione, world famous vibraphonist Peter Appleyard, pianist Ted Rosenthal, bassist Jay Leonhart, numerous appearances with the Gap Mangione Big Band, Benny Goodman Tribute Band, Central New York Jazz Ensemble, and has appeared many times with Michael Lasser, host of PBS radio's nationally syndicated show "Fascinatin' Rhythm".

Her professional engagements have ranged from private gatherings/communities, clubs, festivals, performing arts centers, corporate events, stadium/concert performances and a guest soloist with symphony orchestras.

Recordings include "Love You Madly", a collection of jazz standards which is noted for its musicality and "I've Got The Music In Me", which highlights her versatility as a presenter of music and comedy at its best.

Cindy's signature song, "Land That We Love", which she wrote, has been performed for General Tommy Franks, political commentators/authors Mary Maitlin and James Carville, Bill O'Reilly, the New York State Assembly, Institute for Homeland Security, Vice President Dick Cheney, the 2004 and 2006 International Marine Tattoo and many other patriotic and community events.

Cindy arranges her own material and comes ready with charts and/or tracks for all of her performances.



As a Singer/Comedian/Impressionist:


Bob Vincent, past Entertainment Director at Harrahs Casino and Theatre in Lake Tahoe and Reno. Author: "SHOW-BUSINESS" IS TWO WORDS
During the time my wife and I were at the New York State Fair, my most pleasurable moments were spent in listening to Cindy Miller sing and perform. I mention both facets of her extreme talents because I sincerely felt that we were being entertained by the most talented person we had seen or heard in all our many years in show business. … If it wasn't for the fact she is so extremely talented, I would not have written to you, but because of my many years working and producing such talents as Judy Garland, Mitzie Gaynor, Red Skelton, Sammy Davis Jr., Jack Benny, George Burns, I just couldn't keep myself from explaining my feelings in the hope that it would give Cindy an accurate picture of where she stands in the total field of showbiz.…



As a Jazz Performer:


Paul Smith - Pianist for Rosemary Clooney, Joni James, Mel Torme and pianist/conductor for Ella Fitzgerald.
"A while back I was given a copy of your "Love You Madly" CD. I was impressed with your musicianship and the lovely sound you make. … If I could find one thing that I would change it's the fact that there isn't really enough of you. … No one in the current crop of singers can touch you vocally…I wish you much success and look forward to your next CD with more YOU!
Regards, Paul"

Jim Stone - Big Band Swing, WLNZ, Lansing, Michigan
"Just received your CD … exceptional…. Going to add it to the February play list. … extremely talented with own distinctive style and should be very successful. I would like to feature a complete segment on your career. We are going to start playing it on our radio show immediately!!!"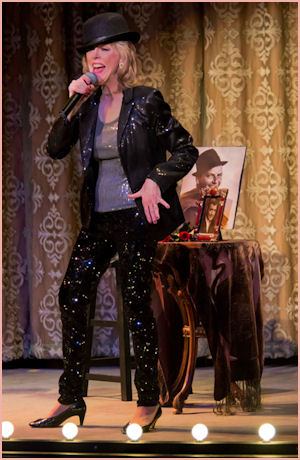 Performing
"You Ain't Heard Nothin' Yet!"
Musical comedy at its best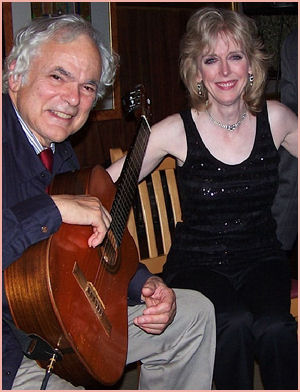 Performing with jazz great,
Gene Bertoncini